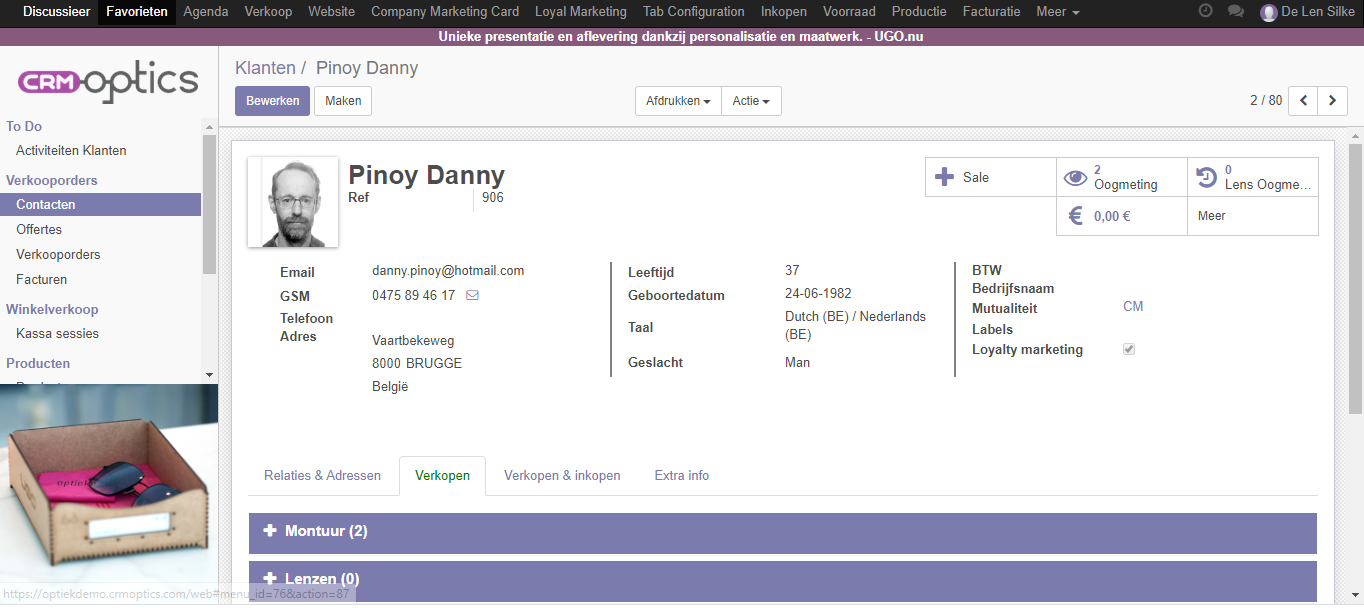 Functions
With our software you can easily add and edit customer data by reading in the identity card or entering it yourself, easily look up customers, register sales, quickly find the history of eye measurements and previous sales, send SMS or e-mails,...​

Easily create, duplicate and search spectacle frames, spectacle lenses, contact lenses, make an inventory list, you can even add one or more photos to the product. These products can be linked to our webshop module with the advantage that the stock automatically adjusts.
Realise sales
Easily register a sale, create work orders, advances, invoices and sales analyses.

NIHDI and mutuality
All the necessary papers for the health insurance company and the RIZIV/INAMI are in the system.

Web-based software
This means that the software can be consulted from anywhere with an internet connection. Our software is compatible with MAC and Windows. You don't even have to make a backup.

Training and support
At the beginning, there is a half day of training available for the cost of 500 euros. Afterwards you can use our support for free for any problems or questions, we are always ready for our customers.

Powerful marketing solutions to grow your business
Post marketing
Cards can be sent to customers who are celebrating their birthday, or who bought glasses x years ago,.... ​
Our software makes an automatic list of these customers and you can choose which customers receive a card and which do not. ​
Online calendar
Let your customer make an appointment online for a new eye test, fitting moment or repair. This way you can spread out busy moments and make optimal use of less busy moments. The online agenda makes your business grow.
More information
SMS & email module
There is also an SMS and email module linked to the software. This way you can quickly and easily inform your customers about your sunglasses promotion by e-mail. Or send a customer a message that his/her glasses are waiting for him/her.
Webshop
A webshop that is linked to our software. Concretely this means:
Product sold = immediately out of stock and no longer visible online.
More information
Interested in a free demo?
This can be done online or on the spot, as you wish.